food Works!
Please note: Our Food Works! publication will be delayed until peace & harmony reign supreme once again. Stay in touch!
The Rodan Foundation's Publication for
The Metaphysical Church of Enlightenment
Winter 2020

"In 1981, Reverend Clarke Carraway founded The Rodan Foundation with the intention of creating a powerful, growing community of awakening beings who experience love, peace, prosperity, unity, healing, harmony, and revelation through learning and service. The Rodan Foundation, recognizing the Law of Cause and Effect, expresses gratitude to for the many blessings it reaps from the community's experiences." Since 1981 The Rodan Foundation members have enjoyed scrumptious dinners and church service foodie events. In 2012, the Food Babes published The Rodan Foundation's first cookbook, Happy Bellies, Happy hearts.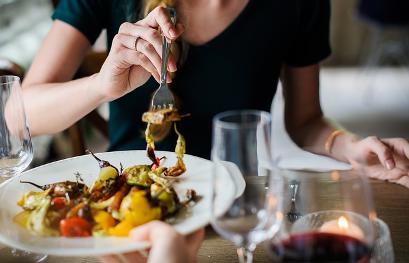 Welcome!

This quarterly publication of Food Works! includes healthy recipes, food making tips, and interesting foodie articles. If you have a particular recipe you would love to see or would like ideas on how to use certain foods, let us know and we will see what we can cook up. ~ The Food Babes of The Rodan Foundation: Patty, Noel, Cecilia, Gina, Judee, & Laura

Living Well: 8 Benefits of Soup
For decades, grandmas have recommended chicken soup for flu or an easy pumpkin soup for diarrhea. Why? That's because soups are often chock full of nutrient-dense vegetables and meats that are slow cooked so that these ingredients retain their nutritious value, delivering a meal in a bowl that is easy to digest, appealing in texture and yet packs great flavors. Let's take a closer look at some of the top benefits of soup, and why we think it should be a staple at your dinner table.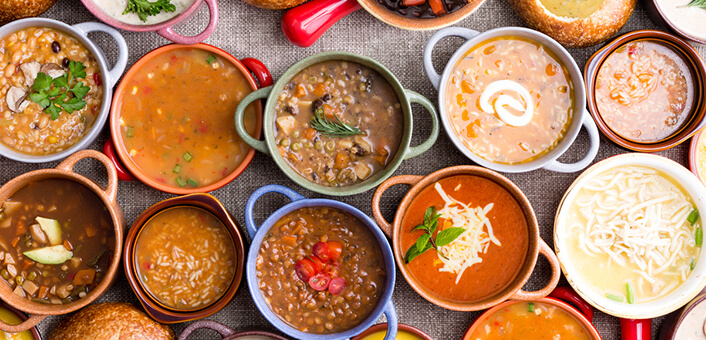 It Helps Keep You Warm - When the temperatures outside reach freezing levels, nothing will warm you up like a bowl of soup. Unlike hot caffeinated beverages that leave you dehydrated, soup nourishes you from within and helps increase core body temperature. A bowl of your favorite soup will warm you from inside out on a cold, chilly night, keeping you toasty warm.
It Can Help Lose Weight - Research has found that people who regularly drink soup have lower dietary energy density and better diet quality. The high water and fiber content from vegetables added to soup keep you satiated in a healthy and hydrating way. Have a bowl of soup in the evening, and you will be unlikely to over-eat too many calories at dinner-time.
It Keeps You Satiated - Don't underestimate a good old bowl of soup. It makes for a hearty meal by itself to provide high satiety with fewer calories than most other regular meals. Researchers from Oxford Brookes University, UK, found that smooth soup induces greater fullness compared with the solid meal because of a combination of delayed gastric emptying. This can lead to feelings of gastric distension and rapid accessibility of nutrients, causing a greater glycemic response. In short, soup will keep you feel for longer, keep your tummy happy and keep your blood sugar levels stable.
It's Good For Digestion - Unless you go for a soup laden with heavy cream, most recipes include fibrous vegetables, beans, lentils and meats that all ensure a healthy digestion. Eating a fiber-rich diet aids in smooth digestion and also increases insulin sensitivity.
It's Power Packed With Nutrients - For those of you who find it hard to eat 7-8 servings of vegetables a day, making a pot of soup to reheat and eat throughout the week is the solution. You can add a variety of vegetables to your soup, and it's also a good way to incorporate any leftovers and create a whole new dish. Plus, it's easy to add a variety of veggies into soups in a non-intrusive way, getting the pickiest of eaters to consume them. We can't think of a healthier meal the whole family can enjoy!
The Vitamins And Minerals Stay Intact - The slow cooking method used for soup ensures that it retains the vitamins and minerals of cooked vegetables since you also consume the broth. Whether you are making a soup with lentils, beans or meat coupled with vegetables, you get a full array of nutrients in that delicious broth. Also, some nutrients like beta carotene from carrots and lycopene from tomatoes are better absorbed by the body when food is cooked rather than when eaten raw.
It Can Keep Aches And Pains At Bay - When making a soup, don't discard the bones. In fact, if you slow-cook the whole carcass with bones, tendons and ligaments to make your soup, you get a delicious bone broth that is high in gelatin, collagen and glycine that have a natural anti-inflammatory effect. A bowl of bone broth can promote healthy bowel movements, improve gut motility, combat gut inflammation and naturally treat gut dysbiosis. It also helps boost immunity to keep stomach infections at bay.
It Is Naturally Healing - There is a reason the doctor tells you to have a warm bowl of pumpkin or chicken soup when you're fighting the flu. Studies have found that hot chicken soup is superior to other hot or cold liquids in the management of fluids in upper respiratory tract infections. The nutrition-filled broth boosts immunity with essential vitamins and minerals and rehydrates your body. Also, it is easy to digest which makes it perfect for when you have a sore throat or poor appetite. Plus if you have a nasty cold, the hot vapors warm you up and helps in clearing nasal passages.
Besides these benefits of soups, the thing we like most is that they're so versatile. You can play around with ratios and measurements to create a warming, delicious bowl of goodness with any ingredients at hand, and use a variety of herbs and spices to try new flavors. As long as you keep a close eye on added salt, a bowl of soup will ALWAYS be a healthy option. Making soup is also inexpensive since you can use whatever you have lying around in the house.
What's better - Soups are so easy to freeze and reheat. Make a large pot over the weekend, store in airtight containers and freeze. You can reheat each portion of soup every weeknight or lunch next day, and it'll only taste better each time!
https://www.sepalika.com/living-well/benefits-of-soup/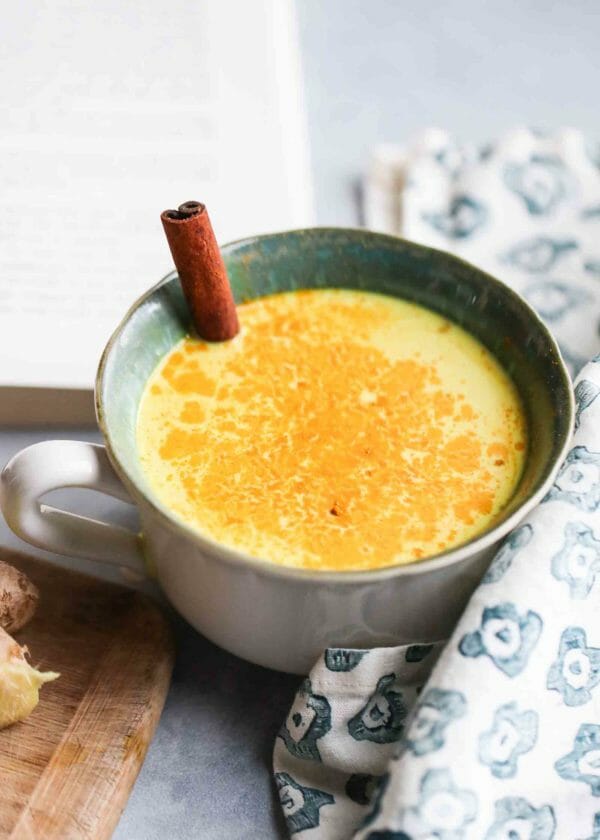 Yummy Warm Breakfast Drink

Unsweetened coconut milk @1- 1/2 cups
Spoon full of raw honey.
Ginger tea bag Add to a small saucepan.
Gently warm.
Remove tea bag, pour into your favorite mug and enjoy!
You might never buy a coffee house drink again!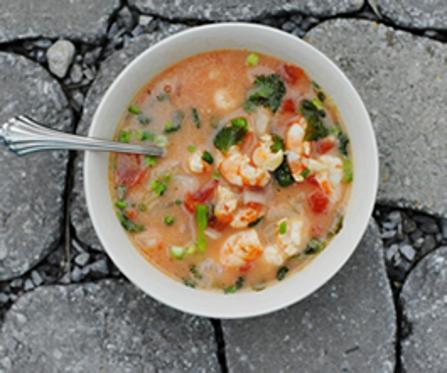 Cilantro Coconut Shrimp Soup
Ingredients:
1½ pound wild shrimp
3-4 garlic cloves, minced or chopped
D
irections:
Instructions: Peel the shrimp and cut them in half or thirds. Chop the onion, garlic and cilantro. Next add the coconut oil to a medium pot and turn on high. Then add in the garlic and onions. Once the onions start to become translucent add the coconut milk and shrimp and cook on medium. Add

water, lemon juice, a dash of cayenne pepper, and salt. Let cook for about 10 minutes. Then turn off, add tomatoes, cilantro, scallions and it's ready to enjoy!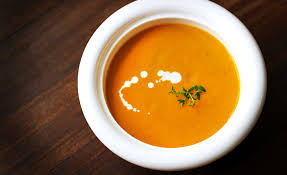 Carrot and Yacon Soup with Gojis

Since carrots and yacon are both "sweet" roots, they are natural flavor companions in this stunning and adventurous soup. Extra fun are the goji berries added at the end, which are pre-plumped in carrot juice, and explode with sweet carrot flavor when chewed. Among its many benefits, this soup promotes healthy vision thanks to the high amount of carotene in both the carrots and gojis, and supports good digestion because of the yacon.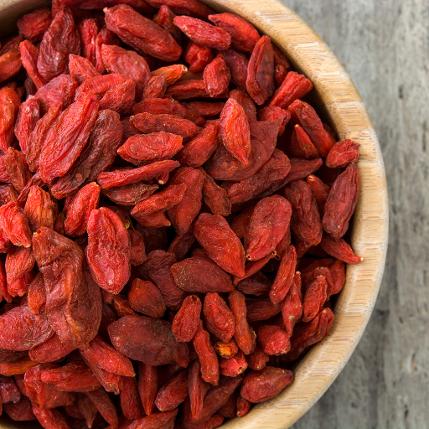 Ingredients:
1 1/2 fresh carrot juice
2 tablespoons dried goji berries
2 tablespoons coconut oil
1 cup sweet yellow onion chopped 1 red jalapeno pepper minced, seeds removed 1 pound carrots 1/4 inch rounds
1 cup (packed) dried yacon slices 3 cups low sodium vegetable broth 1 cup water 1/2 cup light coconut water 1/2 cup light coconut milk sea salt and cracked black pepper to taste edible flower petals and herbs, for garnish (optional)
1 (4 to 6-pound) baking pumpkin, rinsed and dried or a couple of smaller ones Kosher salt
Directions
:
In a small bowl or glass, mix the carrot juice and goji berries together. Let soak for 30 minutes, or until the berries are plump and soft. While the berries are soaking start the soup. Heat the coconut oil in a large pot over medium-high heat. Add the onions and saute for 3-4 minutes to soften. Toss in the red jalapeno pepper, stir and let cook for 1 minute longer. Add the carrots, yacon, vegetable broth, and water then bring to a boil. Reduce the heat to simmer, cover and cook for 30 minutes until the carrots are soft. Transfer the mixture to a blender, add the coconut milk, and blend into a thick puree. Strain the goji berries from the carrot juice, setting the berries aside for a moment, and add the strained carrot juice to the soup. Blend until smooth. Adjust the salt and pepper to taste.
To serve, ladle the soup into bowls. Garnish with a few goji berries, an optional sprinkle of flower petals and herbs, (like marigold petals and tarragon leaves), and a dusting of black pepper! Enjoy!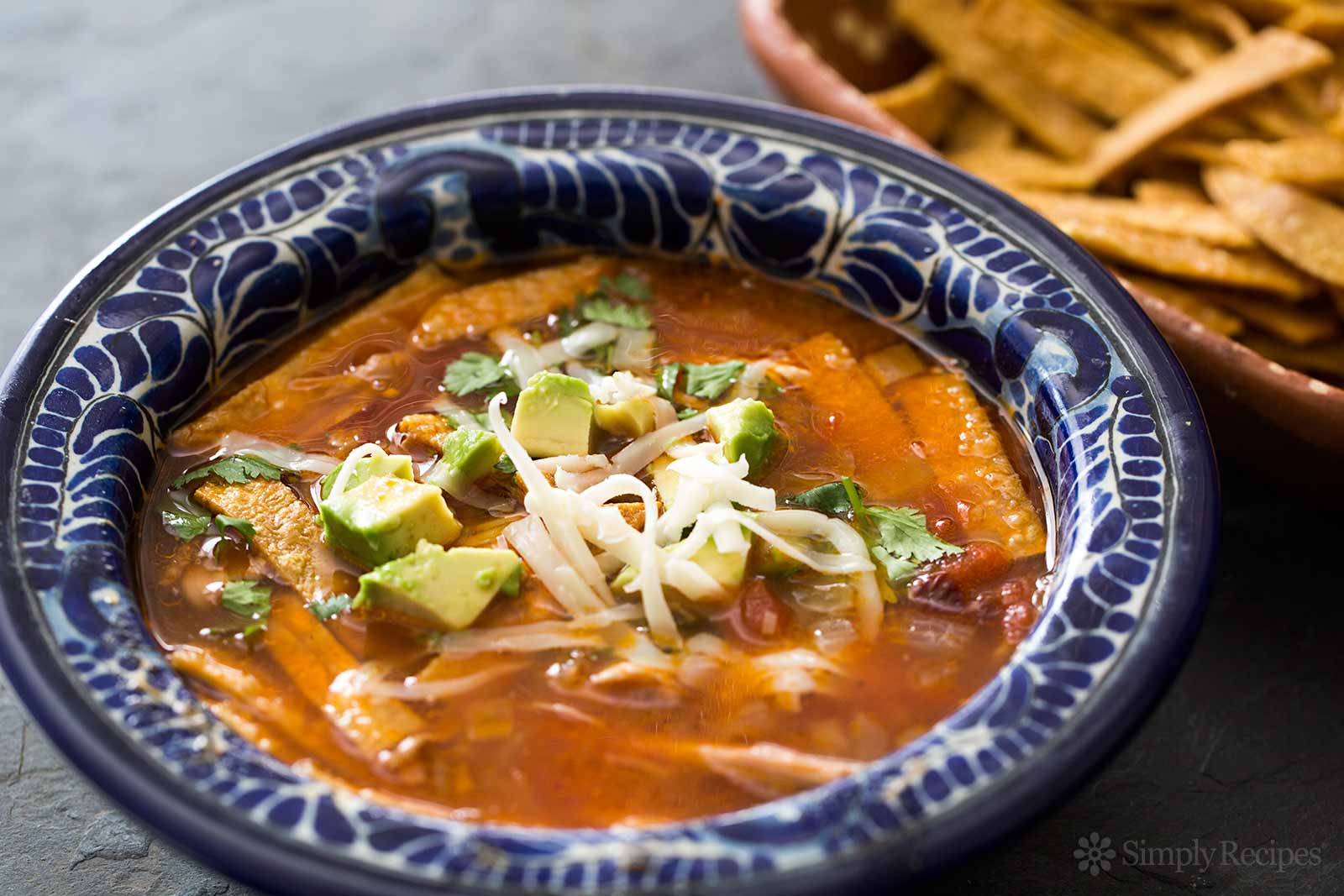 Directions: Heat oil in large saucepan over medium-high heat; add onions and garlic, and sauté 3 minutes. Stir in tortilla pieces and sauté until they are no longer crisp. Add tomatoes, broth, and spices, and bring to a boil. Remove from heat; let cool 5 minutes, then puree soup base in batches in a blender or food processor until smooth. Return soup to pot.
Add turkey, corn, and cream. Bring to a boil and simmer 5 minutes, or until beginning to thicken. Reduce heat to medium and sprinkle in cheese, and stir until melted. Add lime juice and season with salt and pepper to taste. Serve with sour cream and whole, warmed tortillas.

Turkey Tortilla Soup
Great for using leftover holiday turkey.
Makes 8 cups; Total Time: 45 minutes.
Ingredients:
2 T. olive oil 1 ½ cups onions, chopped
3 corn tortillas (6' each), cut into 1" pieces
1 can diced tomatoes with green chilies (10 ½ oz.)
4 cups chicken broth
1 t. ground cumin
1 t. ground coriander
1 t. dried oregano
½ t. cayenne
2 cups cooked turkey or chicken, shredded or cubed (can use rotisserie chicken)
1 ½ cups frozen corn
½ cup heavy cream
½ cup Monterey Jack cheese, shredded
2 T. fresh lime juice
Salt and pepper
Sour cream
Whole corn tortillas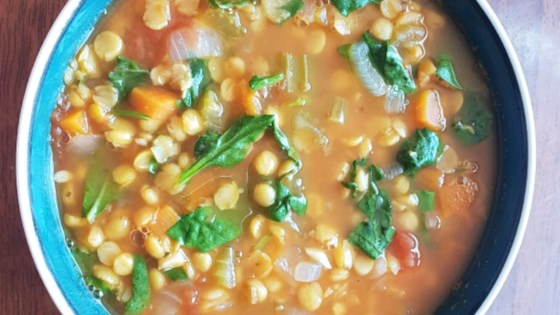 Directions
:
Place the olive oil into a large 6-quart Dutch oven and set over medium heat. Once hot, add the onion, carrot, celery and salt and sweat until the onions are translucent, approximately 6 to 7 minutes. Add the lentils, tomatoes, broth, coriander and cumin, stir to combine. Increase the heat to high and bring just to a boil. Reduce the heat to low, cover and cook at a low simmer until the lentils are tender, approximately 35 to 40 minutes. Using a stick blender (or Nutribullet) puree to your preferred consistency. Serve immediately.
Lentil Soup

Recipe Courtesy of Anton Brown
Yield: 6 to 8 servings
Ingredients:

2 tablespoons olive oil 1 cup finely chopped onion
1/2 cup finely chopped carrot
1/2 cup finely chopped celery
2 teaspoons kosher salt
1 pound lentils, picked and rinsed
1 cup peeled and chopped tomatoes
2 quarts chicken or vegetable broth
1/2 teaspoon freshly ground
1/2 teaspoon freshly ground toasted cumin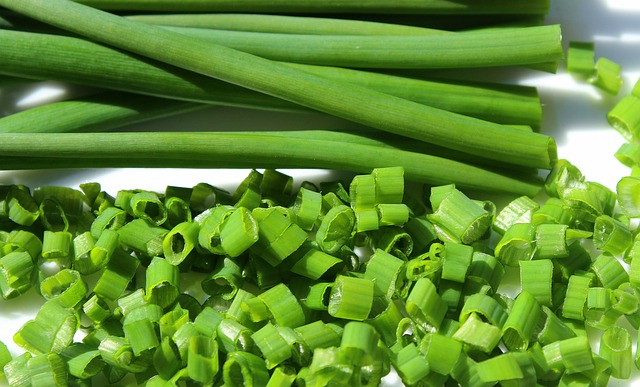 Wondering what to do with those lovely, fragrant chives from Ouroborous Farms?
Snip chives with scissors instead of chopping them, and do not subject them to much cooking, as they are delicate. Instead, use chives in garnishes, salads, egg salad, vegetable stocks, soups, creamy sauces, potato dishes and omelettes, adding the herb to the dish just before serving.
Happy Bellies Happy Hearts (Our Cookbook!)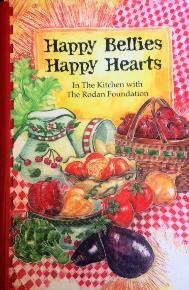 Of course, you would love to have a copy of our wonderful cookbook!

It makes a wonderful gift for friends and family, too. All proceeds from cookbook donations support The Rodan Foundation. We always have copies on the community table Sunday mornings at The Metaphysical Church of Enlightenment.
Visit our Food Babes page to get a copy for yourself!