The Love Awakening's Publication for Earth Stewardship Spring 2017
The Love Awakening is an extension of The Rodan Foundation, a spiritual center founded in 1981 by Rev. Clarke Carraway. Our Community Greenworks intention is to awaken and connect in unity and harmony with our Earth Mother and all of her kind. As transceivers, we allow Source energy to direct and flow through us, touching all that we do with love and in exchange, receiving a bounty of goodness from the Earth.
THE JAPANESE PRACTICE OF 'FOREST BATHING' IS SCIENTIFICALLY PROVEN TO BE GOOD FOR YOU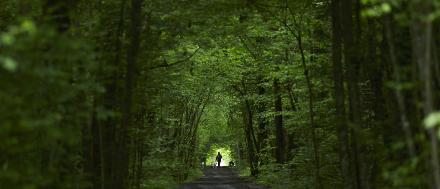 Research has shown the health benefits of 'forest bathing', the act of being among the trees. The tonic of the wilderness was Henry David Thoreau's classic prescription for civilization and its discontents, offered in the 1854 essay Walden: Or, Life in the Woods. Now there's scientific evidence supporting eco-therapy. The Japanese practice of forest bathing is proven to lower heart rate and blood pressure, reduce stress hormone production, boost the immune system, and improve overall feelings of wellbeing.

Forest bathing—basically just being in the presence of trees—became part of a national public health program in Japan in 1982 when the forestry ministry coined the phrase shinrin-yoku and promoted topiary as therapy. Nature appreciation—picnicking en masse under the cherry blossoms, for example—is a national pastime in Japan, so forest bathing quickly took. The environment's wisdom has long been evident to the culture: Japan's Zen masters asked: If a tree falls in the forest and no one hears, does it make a sound? To discover the answer, masters do nothing, and gain illumination. Forest bathing works similarly: Just be with trees. No hiking, no counting steps on a Fitbit. You can sit or meander, but the point is to relax rather than accomplish anything. Forest air doesn't just feel fresher and better—inhaling phytoncide seems to actually improve immune system function. "Don't effort," says Gregg Berman, a registered nurse, wilderness expert, and certified forest bathing guide in California. He's leading a small group on the Big Trees Trail in Oakland one cool October afternoon, barefoot among the redwoods. Berman tells the group—wearing shoes—that the human nervous system is both of nature and attuned to it. Planes roar overhead as the forest bathers wander slowly, quietly, under the green cathedral of trees. From 2004 to 2012, Japanese officials spent about $4 million dollars studying the physiological and psychological effects of forest bathing, designating 48 therapy trails based on the results. Qing Li, a professor at Nippon Medical School in Tokyo, measured the activity of human natural killer (NK) cells in the immune system before and after exposure to the woods. These cells provide rapid responses to viral-infected cells and respond to tumor formation, and are associated with immune system health and cancer prevention. In a 2009 study Li's subjects showed significant increases in NK cell activity in the week after a forest visit, and positive effects lasted a month following each weekend in the woods. This is due to various essential oils, generally called phytoncide, found in wood, plants, and some fruit and vegetables, which trees emit to protect themselves from germs and insects. Forest air doesn't just feel fresher and better—inhaling phytoncide seems to actually improve immune system function. Experiments on forest bathing conducted by the Center for Environment, Health and Field Sciences in Japan's Chiba University measured its physiological effects on 280 subjects in their early 20s. The team measured the subjects' salivary cortisol (which increases with stress), blood pressure, pulse rate, and heart rate variability during a day in the city and compared those to the same biometrics taken during a day with a 30-minute forest visit. "Forest environments promote lower concentrations of cortisol, lower pulse rate, lower blood pressure, greater parasympathetic nerve activity, and lower sympathetic nerve activity than do city environments," the study concluded. In other words, being in nature made subjects, physiologically, less amped. The parasympathetic nerve system controls the body's rest-and-digest system while the sympathetic nerve system governs fight-or-flight responses. Subjects were more rested and less inclined to stress after a forest bath. Trees soothe the spirit too. A study on forest bathing's psychological effects surveyed 498 healthy volunteers, twice in a forest and twice in control environments. The subjects showed significantly reduced hostility and depression scores, coupled with increased liveliness, after exposure to trees. "Accordingly," the researchers wrote, "forest environments can be viewed as therapeutic landscapes." Berman advised the forest bathers to pick up a rock, put a problem in and drop it. "You can pick up your troubles again when you leave," he said with a straight face. City dwellers can benefit from the effects of trees with just a visit to the park. Brief exposure to greenery in urban environments can relieve stress levels, and experts have recommended "doses of nature" as part of treatment of attention disorders in children. What all of this evidence suggests is we don't seem to need a lot of exposure to gain from nature—but regular contact appears to improve our immune system function and our wellbeing. Julia Plevin, a product designer and urban forest bather, founded San Francisco's 200-member Forest Bathing Club Meetup in 2014. They gather monthly to escape technology. "It's an immersive experience. So much of our lives are spent interacting with 2D screens. This is such a bummer because there's a whole 3D world out there! Forest bathing is a break from your phone and computer, from all that noise of social media and email." Before we crossed the threshold into the woods in Oakland, Berman advised the forest bathers to pick up a rock, put a problem in and drop it. "You can pick up your troubles again when you leave," he said with a straight face. But after two hours of forest bathing, no one does. Joy Chiu, a leadership and life coach on the forest bath led by Berman, explained that this perspective on problems lasts long after a bath, and that she returns to the peace of the forest when she's far from here, feeling harried. "It's grounding and I go back to the calm feeling of being here. It's not like a time capsule, but something I can continually return to." Quartz, in collaboration with the World Economic Forum, 2017
______________________________________________________________________________________________________________________________________

GREEN ECO TIPS FOR A HEALTHY PLANET
To co-create we must first begin with a foundation of mutual respect. As you create your garden in partnership with nature, you can respect the earth, water, insects and animals by using organic seeds, soil and fertilizers. You can also communicate with the plants, insects and elements involved in your garden, and create a regular practice of stillness to listen for any messages they may have for you. When it comes time for harvesting fresh vegetables or picking beautiful blooms, you might even ask permis- sion first. If you ask with an open heart, you will always receive an answer.
Imagine what it would be like to surrender certain aspects of your human world to the precision and surety of the natural en- vironment. You might decide, for example, to forego your calendar and plant in rhythm with the cycles of the moon. Or, you might choose to ignore clock time and water your garden when the sun hits a certain position in the sky. By opening your gar- den experience to more of nature's input, you can become available to witness a whole universe of miracles, while engendering a greater sense of honor between the two worlds.
When we recognize ourselves as allies, co-creators, with the earth and the natural world, our relationship to our environment begins to change. We no longer feel the need to control the circumstances around us and can relish in the perfection of all that is.
By Madisyn Taylor, Daily Om, 4/10/17
SIMPLE GARDENING TIPS AND TRICKS

Here, the latest tips and tricks from Paul James, host of Gardening by the Yard:
1. To remove the salt deposits that form on clay pots, combine equal parts white vinegar, rubbing alcohol and water in a spray bottle. Apply the mixture to the pot and scrub with a plastic brush. Let the pot dry before you plant anything in it.
2. To prevent accumulating dirt under your fingernails while you work in the garden, draw your fingernails across a bar of soap and you'll effectively seal the undersides of your nails so dirt can't collect beneath them. Then, after you've finished in the garden, use a nailbrush to remove the soap and your nails will be sparkling clean.
3. To prevent the line on your string trimmer from jamming or breaking, treat with a spray vegetable oil before installing it in the trimmer.
4. Turn a long-handled tool into a measuring stick! Lay a long-handled garden tool on the ground, and next to it place a tape measure. Using a permanent marker, write inch and foot marks on the handle. When you need to space plants a certain distance apart (from just an inch to several feet) you'll already have a measuring device in your hand.
5. To have garden twine handy when you need it, just stick a ball of twine in a small clay pot, pull the end of the twine through the drainage hole, and set the pot upside down in the garden. Do that, and you'll never go looking for twine again.
6. Little clay pots make great cloches for protecting young plants from sudden, overnight frosts and freezes.
7. To turn a clay pot into a hose guide, just stab a roughly one-foot length of steel reinforcing bar into the ground at the corner of a bed and slip two clay pots over it: one facing down, the other facing up. The guides will prevent damage to your plants as you drag the hose along the bed.
8. To create perfectly natural markers, write the names of plants (using a permanent marker) on the flat faces of stones of various sizes and place them at or near the base of your plants.
9. Got aphids? You can control them with a strong blast of water from the hose or with insecticidal soap. But here's another suggestion, one that's a lot more fun; get some tape! Wrap a wide strip of tape around your hand, sticky side out, and pat the leaves of plants infested with aphids. Concentrate on the undersides of leaves, because that's where the little buggers like to hide.
10. The next time you boil or steam vegetables, don't pour the water down the drain, use it to water potted patio plants, and you'll be amazed at how the plants respond to the "vegetable soup."
11. Use leftover tea and coffee grounds to acidify the soil of acid-loving plants such as azaleas, rhododendrons, camellias, gardenias and even blueberries. A light sprinkling of about one-quarter of an inch applied once a month will keep the pH of the soil on the acidic side.
12. Use chamomile tea to control damping-off fungus, which often attacks young seedlings quite suddenly. Just add a spot of tea to the soil around the base of seedlings once a week or use it as a foliar spray.
13. If you need an instant table for tea service, look no farther than your collection of clay pots and saucers. Just flip a good-sized pot over, and top it off with a large saucer. And when you've had your share of tea, fill the saucer with water, and your "table" is now a birdbath.
14. The quickest way in the world to dry herbs: just lay a sheet of newspaper on the seat of your car, arrange the herbs in a single layer, then roll up the windows and close the doors. Your herbs will be quickly dried to perfection. What's more, your car will smell great.

http://www.hgtv.com/design/outdoor-design/landscaping-and-hardscaping/14-simple-gardening-tips-and-tricks

Above Ground Crops
(i.e. corn, peppers, squash, etc.): May 2, 3, 30; June 8, 9, 26.

Below Ground Crops
(i.e. beets, carrots, radishes): May 12, 13, 23; June 19.

Celebrate and co-create with Nature! For more information about volunteer opportunities for upcoming events, please contact The Love Awakening: livelove@theloveawakening.org